Mistress April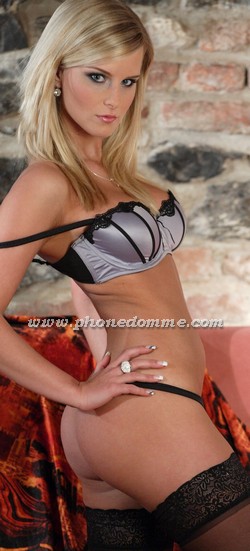 Absolutely No Taboo Sexual Domination
1 - 888 - 884 - 5768
Prepare yourself for an extraordinary phone domination experience.
I specialize in femdom phone sex, taking you on a journey of erotic indulgence, catering to a variety of kinks and fetishes, with ME in charge of course. I'm no stranger to power, having climbed the staircase of success early, stepping on men along the way to get there. I started out as a sales clerk in a male-owned leather boutique, and I now OWN IT. I will Just as easily own your cock, taking sexual domination over you, since it is what you crave, need, and desire.
I practice the art of phone domination and am well-versed in BDSM and male submission. My wicked sexual domination skills and true passion for kink and love of power-exchange with men in need of a woman's touch, allow me to tap into your most deviant femdom phone sex cravings, and darkest secrets, freeing you to submit all of yourself to me.
You'll be amazed what you'll be revealing to me after only a short time! Your cock is as good as mine! Once I get inside, all the mindfuck possibilities are endless, for erotic humiliation, drawing out your submissive desires, and further exploring your cravings for complete sexual domination!
1 - 888 - 884 - 5768
$5 FREE To New Callers
Visa and MasterCard Accepted
Discreetly Billed
$1.69 per minute